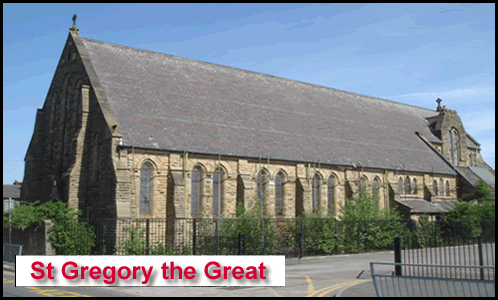 The first church was founded in 1853 and in 1873 work commenced building the second church, for which the first sod was cut 19 May 1873 and the formal ceremony of dedication took place 11 March 1876. The church closed in 2004, the parish being merged with that of Our Lady of Lourdes, Farnworth. The mission of St Gregory's, Farnworth was founded in 1852 by Bishop William Turner, the first Bishop of Salford, for the Catholics of Halshaw Moor, when he sent a newly- ordained priest, Father William Taylor, to care for the eight hundred Catholics in that area.
In 1853 Father Taylor secured a site for a church-school beside Presto Street and, thanks to the zeal and hard work of the parishioners who built it themselves, it was opened by Bishop Turner on 29 June in that same year. It had two storeys, with the upper floor serving as the church on Sundays.
from St Gregory's, Farnworth, 1849 – 1992, by Catherine Murray
This parish will soon celebrate its centenary, as it began in 1853. Fr. William Taylor, a convert, was the first Rector. He built a small church and presbytery. He went to St. Mary's Bolton and Fr. Michael Byrne did good work here from 1861 to 1871. Before leaving for Rochdale in 1871, he had raised over £3,000 to meet the requirements of the rapidly growing parish. Fr. John Galbois Boulaye was the next Rector (1871 to 1895). He became known as the "Apostle of Farnworth". He came of a French refugee family at the time of the French Revolution, some of whom settled in Manchester. At Farnworth he built the fine church in 1875, which was opened by Bishop O'Reilly of Liverpool. The beautiful pulpit was made at Munich. Fr. Boulaye became a Canon of the Chapter in 1891, Vicar General in 1903, and Provost in 1910. He was the last of the Chapter as it was composed in the time of Bishop, Bilsborrow. From Farnworth he moved to St. John's, Rochdale. Ill health made him retire for a time to the climate of Switzerland, and during his stay there he was advised to grow a beard for his throat complaint, so that when he returned to the Diocese he was patriarchal and venerable in appearance. Throughout his life he had suffered from a lisping impediment with the letter R, but this did not in any way affect his distinguished career. He passed the last years of his life at St. Joseph's, Halliwell, Bolton, where he died in 1912, aged 72. He was noted for his great kindness to the young priests over whom he had authority, and for his charming manner when carrying out some of the less pleasant tasks of his office. The next Rector at Farnworth was Dr. Joseph Tynan, a great Canonist, preacher, and public speaker. He built the enlarged presbytery and installed the Benson organ in the church. He became a Canon of the Cathedral Chapter and a Monsignor when at Farnworth. In 1913 he became Rector of St. Mary's, Burnley, where he died in 1939. When Mgr. O'Kelly resigned, he was made Provost. Canon Lynch came to Farnworth from St. Wilfrid's, Hulme. He had been ordained priest together with Dr. Casartelli, and a life-long friendship was later formed between them, beginning at the Holy Family church. Canon Lynch was Bishop Casartelli's first appointment to the Cathedral Chapter in 1903. He became Provost and a Domestic Prelate while at Farnworth. To him is due the credit of having first suggested the Maynooth Union. In Maynooth he had been a class-fellow of Dr. Walter McDonald of the Dunboyne Establishment. He died rather suddenly in January 1921 at Farnworth. Canon Robert Holmes was the Provost's successor. He came from SS. Peter and Paul's at Bolton, where he had done magnificent work in clearing away debt and in building. He had been the pioneer founder of St. Ann's, Accrington. He died at Farnworth in 1928 and will be long remembered for his great work of pastoral visiting in the parishes in his care. Fr. George Cobb (Honorary Canon of Lourdes) was appointed to follow Canon Holmes. He has made many improvements and greatly developed the social life of the parish. He saw his grand church consecrated by the present Bishop in June 1946.
Taken from 'Salford Diocese and its Catholic past', a survey by Charles A. Bolton, a Priest of the above Diocese. Published 1950 on the First Centenary for the Diocese of Salford.